LIFE ADVISOR EAP®
Invest In Employee Well-being With The Best Employee Assistance Program
On average, 94 percent of employees experiencing substance abuse or emotional difficulties managed their personal problems and work/life challenges within the Ulliance Life Advisor EAP®, utilizing our solution-focused, short-term counseling process.
ULLIANCE SUCCESS STORIES
A large client company, through its third-party administrator, reported a $2,869,769 cost savings in the area of mental/nervous and substance abuse benefits after implementing the Life Advisor EAP®.
With our Life Advisor EAP®, a client company realized $27,000 annually by decreasing behavioral healthcare claims costs on its self-funded medical plan. These savings were over and above the cost of the EAP.
In just one year, a hospital recognized a 50 percent reduction in its emotional well-being and substance abuse claims by implementing our Life Advisor EAP®.
After just one year of implementing the Life Advisor EAP®, a large international company had outpatient mental/nervous and substance abuse healthcare claims 25 percent below their peer group.
At Ulliance, we help increase your return on investment and people in terms of cost, productivity and relationships. So, what's your return on investment and people? If you're not sure, look to Ulliance.
Why Do We Need A LIFE ADVISOR EAP?
Because your employees bring more to work than just their lunches.
Remember why the EAP was created? It was supposed to help your employees and managers with personal concerns that impact their ability to work and live a quality life—achieving a more complete emotional well-being.
Welcome to the Life Advisor EAP® from Ulliance. We've created our own unique, Resolution EAP Model® designed to resolve and manage workplace conflicts, personal concerns and life challenges—most within our EAP services.
Imagine the value that the best employee assistance programs can provide to your organization:
Flexible Employee Assistance Programs (EAP) to meet your specific needs
Decreased behavioral healthcare insurance claims
Lower EAP costs
Flexible number of face-to-face sessions aimed at resolving issues
Robust EAP portal offering valuable work/life content
Guided Behavioral Care model integrated with medical plans
Broad selection of work/life services and materials
Dedicated account managers to advise on work performance issues
High level of utilization (double the national rate)
Manager and HR support by having experts provide services for employees
Experienced clinical Account Managers in handling workplace crisis occurrences
By the Numbers
According to the Department of Labor, employers on average save $5 to $16 for every dollar invested in an effective Employee Assistance Program.
According to the Employee Assistance Professional Association (EAPA), a robust EAP can provide employers with:
35% decrease in healthcare expenditures
30% reduction in Workers' Compensation claims
33% less use of sick leave benefits
65% fewer workplace accidents
Maximize Your EAP's Value and ROI
Our EAP has a higher level of participation – double the national rate –which means it pays for itself. Use our ROI calculator to learn how investing in a better EAP can save you money.
The Impact of Emotional Stress
In this video you will learn what emotional distress is, how it affects your body, mind and behavior. PLUS take a look at some stats pertaining to the workforce.
ULLIANCE LIFE ADVISOR APP
The Ulliance Life Advisor App is your FREE and CONFIDENTIAL resource available to you and your dependents. The app contains a variety of resources, tools, articles, and general information about EAP services provided by Ulliance. It also allows you to contact us today to get connected with a Life Advisor Consultant and start living a healthier, more balanced life.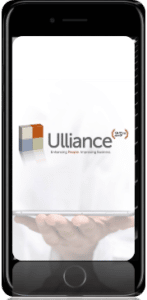 Once you are logged into the Life Advisor App, you'll have access to trusted content curation in the Life Advisor Resources section. The goal of this content is not to be a library, but actually a service that gives the user regularly updated, relevant content on trending work-life topics. With this structure, there is an additional value every time you visit the mobile app since the content is pushed to you instead of searching for it on your own.
Currently available topics that are curated and pushed to you:
21st century living
Addiction
Alcohol and drugs
Dealing with change
Emotional
Family
Financial
Job
Legal
Leisure activities
Loss
Medical
Relationships
Managers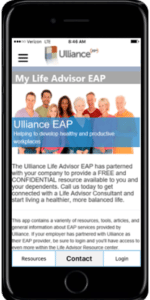 We can adjust this content on demand – monthly, weekly or even daily!
Need to get in touch to learn more about your EAP benefit, schedule a counseling session, or discover additional work/life resources available to you? Contact Ulliance through the app by:
Click to call to connect directly with a Life Advisor Consultant
Send an email to open your default email application
Send us your question directly through the form on the app
Request a call or appointment once you are logged in
Access our social media sites to connect with us online
A variety of assessments and tools are also available to you:
Stress assessments and checklists
Coloring pages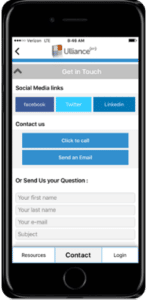 We also have content targeted directly to the HR professionals at our client companies that includes:
Content related to crisis situations
Additional benefits available to covered employees
Quick access to their Account Manager
A user should log into the app using their Company name and City of employment to access all resources in the app. This login information is saved to improve the user's experience the next time they visit the app.
YOUR SENIOR COACH
Ulliance offers a retiree Employee Assistance Program called Your Senior Coach. Your Senior Coach is a completely confidential, short-term counseling service, utilizing a practical approach toward problem resolution. Sometimes we are so close to a problem that it becomes hard to look at it, and therefore, we may have a difficult time identifying the solutions. Professional assistance can make the difference between a problem repeating itself, and resolving it for good the first time the problem occurs.
Your Senior Coach includes:
Counseling services – telephonic
Legal & financial services – credit counseling, access to attorney
Specialty services – elder care, language line, etc.
Retiree-life services – books mailed to you, free of charge
"Ulliance offers so many valuable EAP resources. We really value the Smart Manager Webinar Series, the Ulliance Account Managers are so knowledgeable and do such a great job hosting them. "HR Director