Partnering with HR Broker Consultants
---
WHAT IS YOUR CLIENT'S RETURN ON INVESTMENT & PEOPLE?
At Ulliance, we work with our HR Broker Consultants partners to provide services that help their clients redirect behavioral health claims, provide support to human resources and to deliver training to clients' employees.
In a competitive landscape where health care consultants all have the same carriers and plans available to their clients — differentiating has never been more essential to maintaining and growing your book of business. We all know business can be tough to close and easy to lose, so staying top of mind and bringing innovative solutions to our relationships is part of the job. Ulliance can help.
Take a Peek at our Ultimate EAP Guide!
What's the ROI impact to your client?
EAP systems that fail to resolve issues with counseling within their programs will result in increased health care claims. The proof is in the numbers. Do the math.
"There is not a better, more comprehensive EAP program in the industry than Ulliance."
- Nick Philko, Vice President of Employee Benefits at Meadowbrook Insurance Group, Inc.
Curb Healthcare Costs
No matter the funding arrangement(s), the challenge remains the same—redirecting medical claims away from your client's health and Rx plan. How can Ulliance help HR Broker Consultants? Our Resolution EAP® Model redirects behavioral health and psychotropic Rx claims away from the health insurance plan, while reducing employee's out of pocket costs as well. Not only is the EAP the most efficient way to pay for these claims, but we also are able to resolve 94% of the issues within the EAP. The result is a higher performing workforce, reduced liability and reduced costs for your clients.
Performance Guarantee
BE OUR GUEST PROGRAM - At Ulliance, we put our money on the table with a 100% money back performance guarantee—"Be Our Guest" Program. While this might seem risky, we mitigate the risk by providing you with exceptional, high touch and responsive service. Based on our client organizations' high levels of satisfaction year after year, we will offer your client organizations this unprecedented performance guarantee.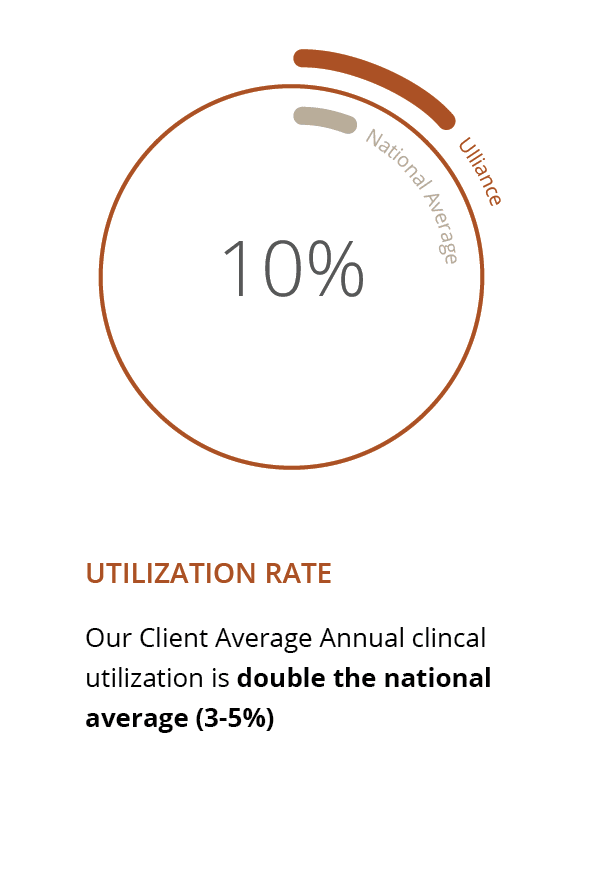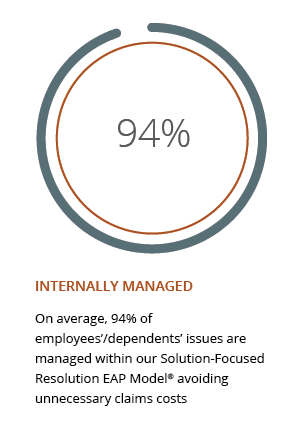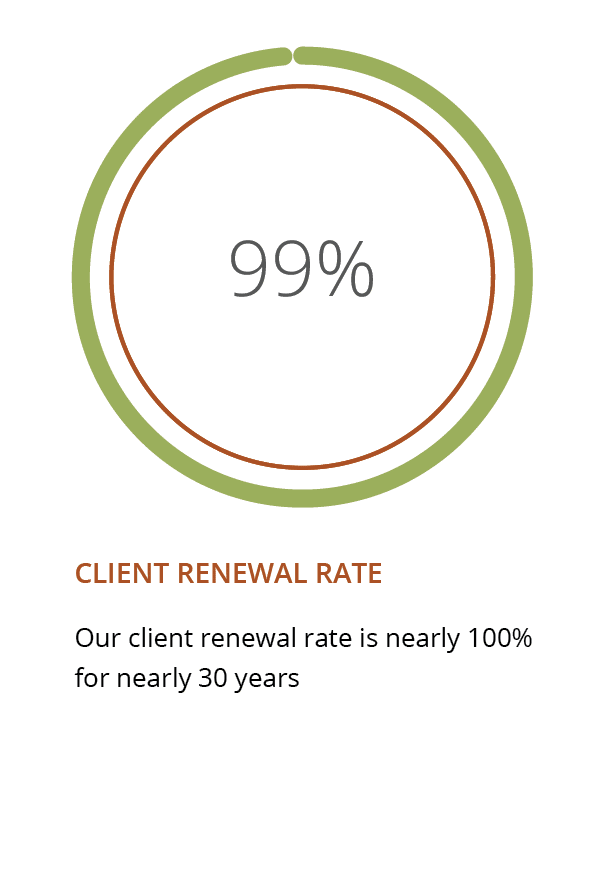 Creating a Culture of Total Well-Being
With 25% of the American workforce struggling with some type of personal issue such as: work-related stress, anxiety, family or financial concerns, creating a work-space of total well-being is essential for a productive workforce. Our Complete Workforce Services improve business by enhancing people's lives.
Embedded vs. Resolution EAP matrix
---
"During a routine stop near campus, a university officer was shot and later died from his wounds. The university had to simultaneously deal with a violent crime, the sudden and tragic death of an employee and a grieving community. The university's student counseling office partnered with Ulliance to provide support to the university students, staff and the community-at-large during a candle-light vigil and memorial service for the officer."
According to FBI Active Shooter Resources, incidents of gun violence are on the rise. In fact, active shooter incidents have increased over the past four years by a whopping 96.8%.
Catastrophe Strikes at Your Client Partner - Are They Prepared?
When there is an unplanned emergency at your client's organization, and they call their embedded EAP provider—what will they provide?
From onsite accidents to workplace violence and natural disasters, critical incidents happen. When utilizing the Ulliance Life Advisor EAP®, your clients will receive unlimited, comprehensive crisis management services to support HR Managers and employees during critical times:
24-hour expert support and intervention
Expert help to stabilize organizational crisis
Specialized crisis management team
On-site debriefings and in-person grief counseling
Fast response for sudden crises
#DEI-Compliance is Key
Brokers and consultants having the daunting task of being up-to-date on all things compliance and legislative in nature. Staying compliant is key.
The world is rapidly changing. Help prepare employees to deal with challenges and maximize the potential of today's global workforce. Our culture and diversity training goes beyond compliance to look at the competitive advantages of diversity and the changing demographics of the United States.
What's Covered In the Training-
Understand diversity and its competitive

advantages

 D

efine culture and the key aspects of culture

Discuss ways to deal with cross-cultural

conflicts

 

Examine the changing demographics of the

workforce

 

Identify ways to support diversity in the

workplace
We are proud to have been selected by Shortlister as one of the Top Vendors in the categories of: EAP Providers & Corporate Wellness
Shortlister is the #1 marketplace for employers, brokers and consultants to find and select providers in the Human Capital, Well-being and Benefits space.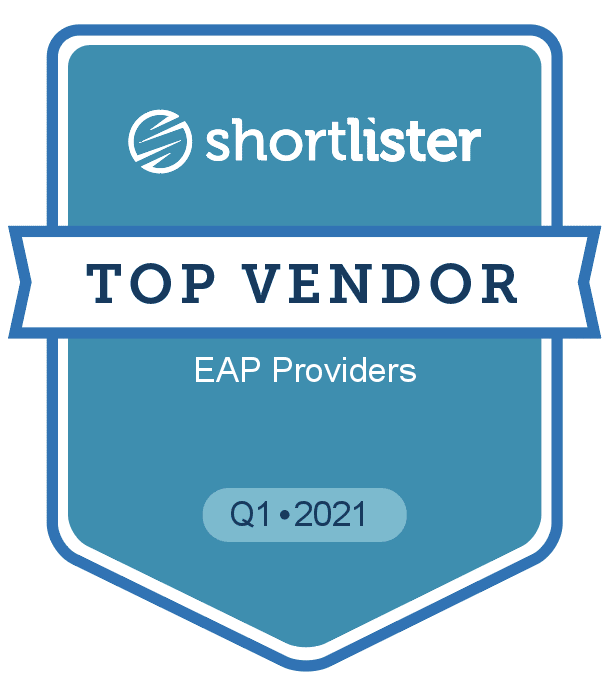 Shortlister is a service that aids brokers, consultants and consumers in selecting new vendors. In order to be approved by Shortlister, vendors are required to answer hundreds of very detailed RFP questions that address subjects ranging from company history, to IT technology, to services offered. Shortlister's proprietary matching algorithm will consider your important search criteria to identify the vendor that is most compatible with an employer's budget, demographics and unique program goals.
"Shortlister provided valuable guidance as Rush was choosing a vendor. The Shortlister team was thorough, thoughtful, and efficient. The information provided by the platform was instrumental in completing the proposal process in a timely and effective manner."
"I LOVE Shortlister. It's a great tool backed by some of the best minds in the business. Thanks for making my life easier and more importantly improving the Wellness RFP process."
"Shortlister was very instrumental in helping us to identify a wellness platform that fit our unique company culture. Their experience in the industry and resources saved us a lot of time, and eliminated any confusion during the selection process."
Click to View Our Vendor Profile
5 Tips to Keep Your Clients Harassment-Free
---
---
"The Human Effectiveness Training experts at Ulliance are extremely responsive. We had an emergency request from one of our locations for a specific training. We were able to speak to a training expert on a Friday afternoon and explain our needs for an early Monday morning on-site training. They also do a great job providing our EAP."
---
Complete Workforce Services
Ulliance offers human resource management support with a focus on positive behavioral change. We've assembled a comprehensive range of flexible services that keep your employees emotionally and physically healthy. Get complete workforce services for your organization from one reliable source.
---
Your organization today is forced to do more with less, so your employees need the tools to become a productive, more capable contributor. That means you need an effective training solution that provides real, transferable skills.
#RiseAbove

: Be Part of the Conversation

At Ulliance, our mission is to improve the lives of the people we serve. We started the #RiseAbove hashtag to highlight our commitment to helping organizations as they support their employees in Rising Above every day challenges.

Use the hashtag #RiseAbove on social media to continue the conversation. Together, we can work toward better mental and physical health for all employees.